Multi User Account Extension for Magento®
The Best Sub-Account Extension for Magento 1.X / 2.X by CreativeMinds
Why Use the Multi User Account Extension?
If you're looking for a way to have multiple users and sub accounts under the same master account, but with different user permissions, look no further. The Multi User Account extension has everything you need to create and manage sub logins under a single Magento® account to restrict access levels for each admin user.
1 Account, Many Users
Add multiple sub user profiles to one Magento user account
And give unique permissions to each sub account
Multiple Master Accounts
Add additional master accounts to manage sub user accounts
Each master account can support multiple sub accounts
Cart Sharing
Sub users can share the same cart with other sub users
* Available only for the Magento 1 version
User Permissions
Unique Permissions for sub accounts
Restrict Order Amount
per order, for each sub user
If order max is reached, it must be approved by account manager
order
shipping
invoice
UPDATES
SENT TO
master account
sub account
master & sub account
Employee Accounts
Create separate logins for each employee
Unlimited Users
The account owner and store admin user can create an unlimited number of sub-accounts
Security
Maintain store security by giving additional users limited access
B2B
Great solution for B2B companies who may want to restrict access for sub logins
Sub Account Filtering
 Admin users can filter sub-users by name, email, permission level, or user ID
Order Viewing
Account owner can set sub-users to see only their order history or all orders
Order Permissions
Choose which sub-user can manage orders
Order Approval
Require sub-admin users to request order approval from the account owner.
API
Pull sub-user information and create sub-user accounts
Email Notifications
Define whether a sub user will receive a copy of order emails
Import Customers from Admin
Admin users can import customers and sub-accounts with all permissions and access options using .csv import from the backend
Community Platform
$119 for one live + 2 test Magento® hosts
Enterprise Platform
$299 for one live + 2 test Magento® hosts
Community Platform
$199 for one live + 2 test Magento® hosts
Enterprise Platform
$399 for one live + 2 test Magento® hosts
CreativeMinds' Extension Customization Services
Want our extensions to suit specific needs? We offer customization, integration with 3rd party API and optimization
Magento 1 Multi User Account
Magento 2 Multi User Account
How many sub-users can a customer have on a single Magento account?
There is no limit to how many sub account users are assigned to one Magento account. Just be mindful of the capabilities of your hosting package if you are intending to have many many users and sub account users.
To learn more about adding Sub-users with the Sub Account extension see this Help Article or Click Here to learn about the CSV import feature.
Click here to learn about the Soap API integration for managing Sub-account users
Who would benefit from using multiple Magento sub-accounts?
Ultimately, the extension is best for companies or corporations who may be employing different people for purchasing equipment and supplies, and would like to keep track of who buys what. It is also useful for accountants and managers that need to view the monthly expenses of their company, and for administrators to supervise purchases. The majority of sites using this extension will be B2B but there are plenty of B2C site applications as well. Contact our Pre-Sale Chat support or Submit a Ticket to request a Demo of the Sub-Account extension to see its features for yourself.
Who can approve sub-users' order requests?
The first answer to this is, it is possible to set a sub account user's permission to allow them to create orders themselves. Then of course the Parent user of the sub account user or the administrator can approve their order request. We have also included a feature that allows either the store admin or the parent user to delegate sub user approvers, who are sub users with permission to approve other sub users' order requests. There is a lot of flexibility in who can or cannot approve orders trickling down from the preference of the Admin. To learn more about sub user approvers check out this Help artice.
Is there any way to import a list of users and sub account users in bulk?
Yes. We have included a CSV import option to import and update lists of Users on the site. There is a sample CSV included with the extension which can be downloaded and used as a schema to get you started. There is also an API integration which could be used to build a custom solution for importing users and sub users. To learn more about the CSV import check out this Help article or to read more about the Soap v2 API click here.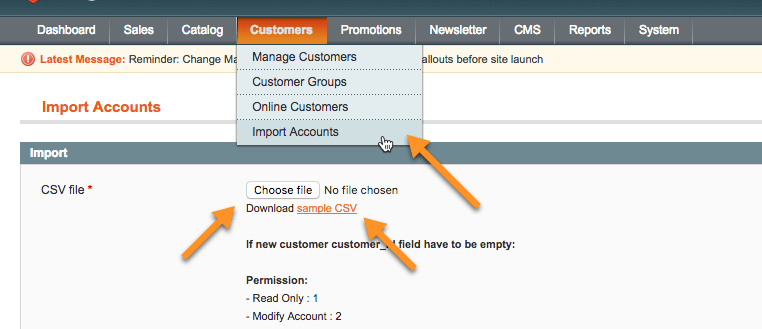 Does the extension send email notifications for new order requests? If so, who receives them?
Good question. Yes. There are email notifications sent when new order requests are submitted by sub account users. Who receives them depends on the configuration set by the administrator. Either the Master account, the subaccount approver with the closest approval limit or both the master account and the most suited sub account users will receive a notification. To learn more about notification emails reads this Help article.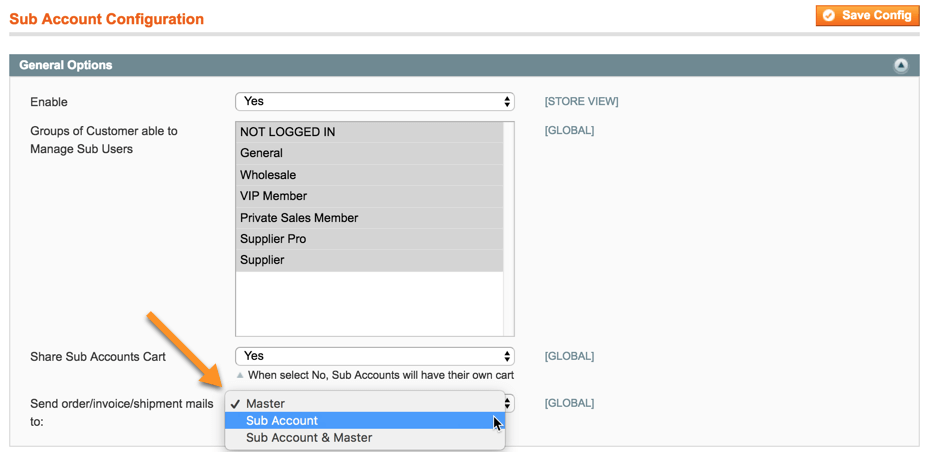 Can a subaccount be associated to more than one master account?
Yes, however, this requires the purchase of an additional module, the Multiple Master Subaccount add-on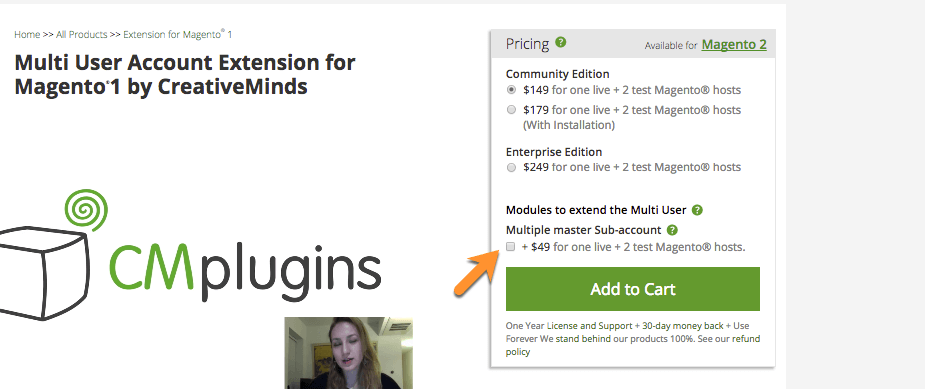 Does the extension support API methods for creating/managing sub-accounts?
Yes. The Sub-User extension works with the Soap v2 API methods, learn more about this and the API calls in this Help Article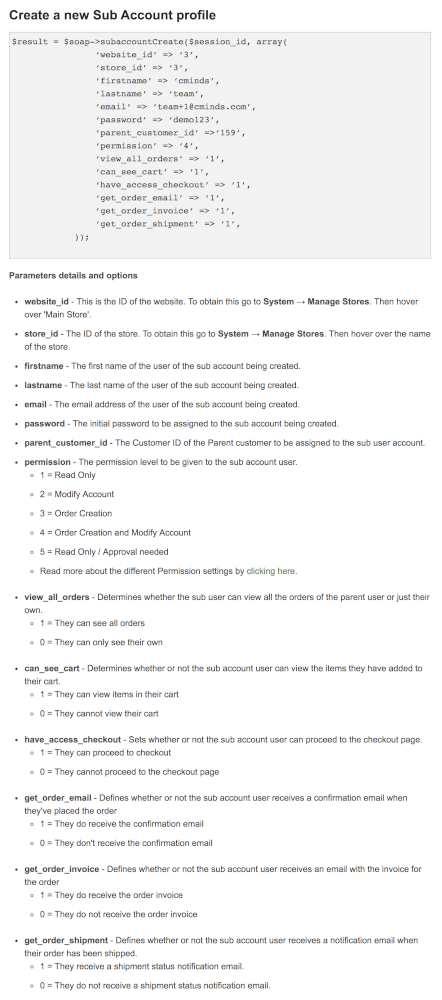 Can sub-accounts be bulk imported using CSV?
Yes. The extension comes with a built-in functionality to import sub-accounts using CSV. The CSV Import method can also be used for editing existing Sub User accounts. To learn about importing Sub-Account users using the CSV import feature, read more about it in this Help Article

Can parent accounts login as one of their sub-accounts?
Yes. There's a login button on the customer dashboard in the sub-accounts management area. Clicking on it will allow you to log in as the chosen sub-account. This is called Emulating a Session, to learn more about it see this Help Article.
Additional Magento® Extensions by CreativeMinds
Learn more about these great extension + our installation and customization services >>
Streamlines communication between stores and dropshippers, allowing to track orders and shipments handled by your dropshippers.
Magento 1
Allows customers to forward the purchase to someone else for approval and payment
Magento 1